Freistehende 4-stufige Metalldraht-Regalwerkzeug-Aufbewahrungsregal mit Rädern
Verpakung:

Bubble Wrap und exportierten Karton, Metall Wandregal

Marke:

Giantmay

Ort Von Zukunft:

Guangdong China (Festland)
Produktbeschreibung
Willkommen bei Super Shop Fitting. ♣
Wir sind prefessional in tun Metall-Display Rack.Wenn Sie Hilfe benötigen, kontaktieren Sie uns für weitere Beratung ♠
Produktbeschreibung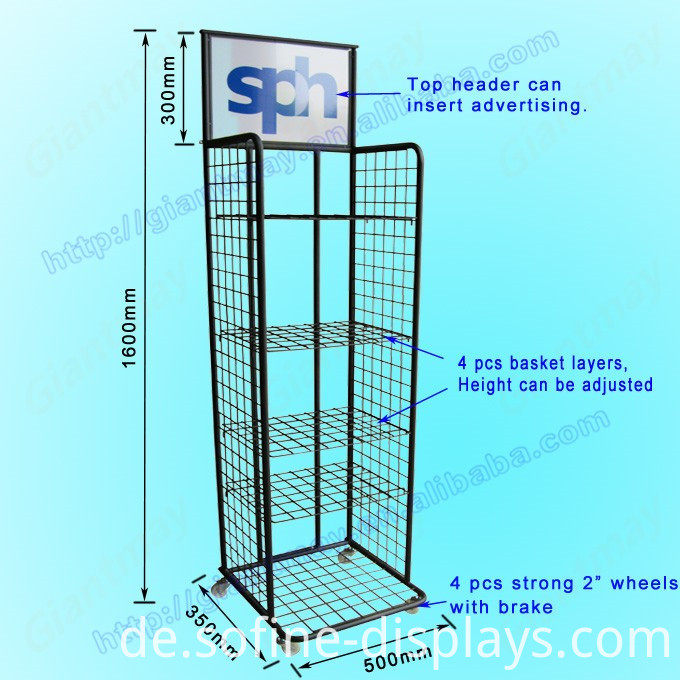 metal wire shelfing tool storage display rack

Name

Free standing 4 tiers metal wire shelfing tool storage display rack with wheels 

Model No.

GM-DR052

Size

W500xD350xH1600mm or Customized

Main material

Metal

Color

up to clients

MOQ

50PCS

Logo 

Can be printed on top

Sample time

7~12Days

Weigth capacity

Light duty

Surface Finished

Powder Coating/Painting/Chrome

Delivery Terms

EXW,FOB,CIF

Payment Terms

T/T,L/C, Western Union
Ähnliche produktionen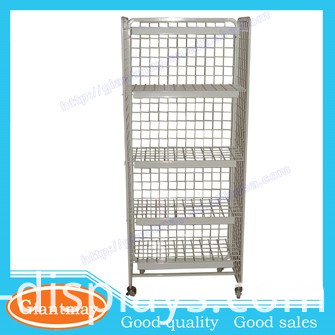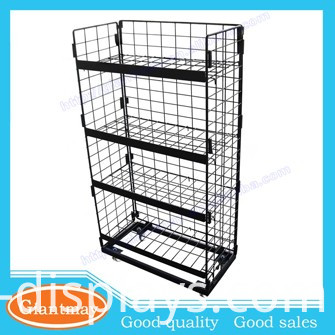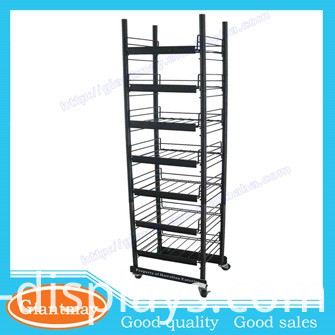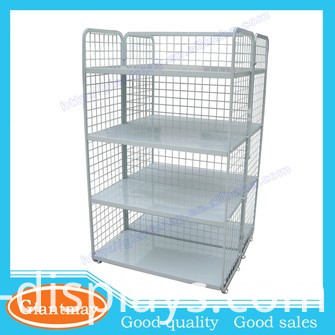 Firmeninformation
♣ 1, Mit mehr als 100 Arbeiter und 10.500 Squre Meter Pflanze.
♣ 2, mit mehr als 15 Jahren Erfahrung.
♣ 3, spezialisiert auf Design und Entwicklung Produkte, um Ihre Anforderung zu erfüllen.
♣ 4, Wir haben Versandprodukte nach Deutschland, Einheit Staaten, Australien, Brasilien, ♣ Kanada, Russland, Saudi Arabien, Türkei, Kasachstan, etc.
Unsere Dienstleistungen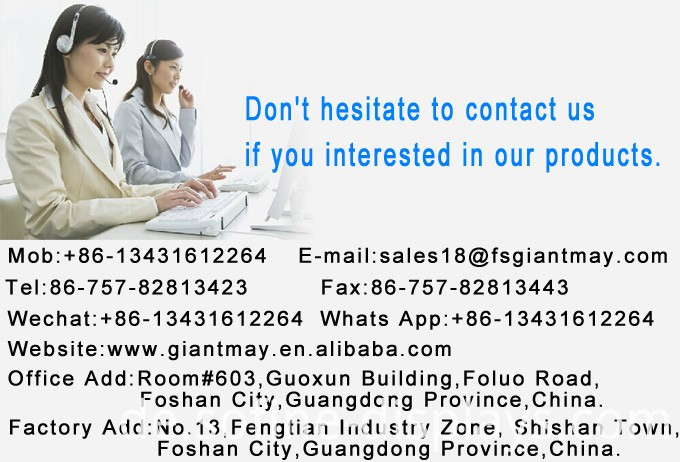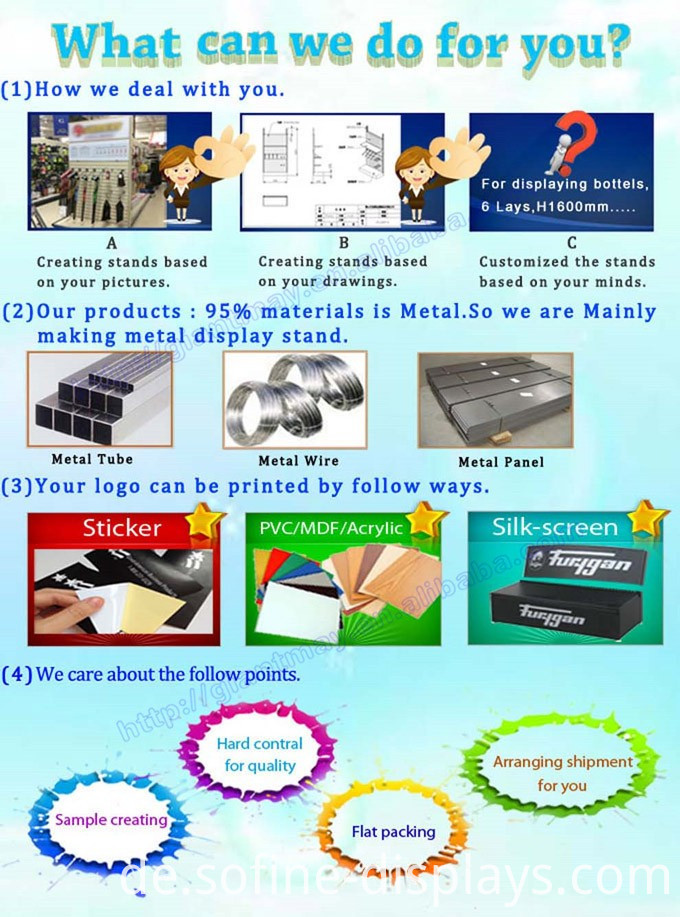 Wir spezialisieren uns auf:
* Ladeneinrichtungen & Ausstellungsstände
* Supermarkt Einkaufen Carts & Körbe
* Regalsysteme
* Marketing & Promotion Trolleys / Käfige
* Metall-Display-Haken
* Wire Mesh Grid Ständer & Rotierende Display Ständer
Überlegenes Angebot
* Haben Sie leistungsfähige Fähigkeit von ODM und Soem
* Erfüllung der Kundenanforderung mit wettbewerbsfähigen Preisen
* Geben Sie zufriedenstellende After-Sales-Service
Stärke Vorteile
* Fortgeschrittene mechanische Ausrüstung
* Professionelle Mangaement
* Strenge Qualitätsprüfung
* Starkes Forschungs- und Entwicklungsteam
FAQ Q: Kann ich Ihr Unternehmen besuchen?
A: Natürlich haben wir einen Showroom in Foshan China.
Wenn Sie unser Produkt bestellen und unsere Firma besuchen möchten, kontaktieren Sie uns bitte, um einen Termin zu vereinbaren.
F: Kann ich unser Logo ausdrucken?
A: Natürlich kannst du alles drucken, was du magst.
Q. Haben Sie Proben?
A: Ja, wir können die meisten Produktproben liefern.
Wir werden eine kleine Probegebühr erheben. Aber wir werden die Gebühr zurücksenden, wenn Sie einen Auftrag vergeben.
F: Welche Informationen soll ich Ihnen mitteilen, ob ich ein Angebot bekommen möchte?
A: -Der Stil: Amerikaner, Europäer, Australien, Asiatischer Stil
-Die Größe: Liter und Messung
-Color: Was auch immer Farbe, die Sie für Plastikzubehör benötigen
-Quantity: Kaufmenge für einen Auftrag
F: Was ist Ihr Unternehmen vor allem Produkte?
A: Unsere Firma ist Prefessional bei der Herstellung von Metall-Display-Rack, Supermarkt-Racks, Convenience-Shop Regale Obst-und Gemüse-Racks, Metall-Haken, alle Arten von Schuhen, Display-Stände etc.
F: Wie man über Sie Produkte packt?
A: Für die Metall-Rack, werden wir klopfen Verpackung mit Plastiktüte innen und mit Karton draußen.
F: Wo ist deine Fabrik? Kann ich besuchen?
A: Unsere Fabrik befindet sich in Foshan, Guangdong.Sie sind herzlich willkommen zu besuchen, wo immer Sie sind verfügbar.
MIT Invents Low-Cost 24-Hour Solar Power System

Reuters news MIT's research team invented a low-cost solar power system that can power day and night. The system is divided into two parts, a concentrating solar power system and a molten salt heat storage system. This research is not the first marriage of these two technologies, but it is committed to reducing the cost...

MIT uses live virus to transform carbon nanotube solar cells

Researchers at the Massachusetts Institute of Technology (MIT) said that living viruses can be used to mount highly conductive carbon nanotubes in the positive electrode structure of dye-sensitized solar cells, which can improve the cell efficiency by almost three points. one. A dye-sensitized solar cell is a...

Researchers at the Massachusetts Institute of Technology invented a new "nano-printing" technology that enables mass production of nanodevices such as DNA microarrays. With the development of science, from the biomedical to the information technology fields, the volume of the devices used has been continuously...
Produktgruppe : Hauptsächlich Produkte