Plexiglas läßt Pop-Metall-Display stehen, um Kosmetik anzuzeigen
Verpakung:

Bubble Wrap und exportierten Karton

Marke:

Giantmay

Ort Von Zukunft:

Guangdong China (Festland)
Produktbeschreibung
Sie brauchen wissen, Mehr Plexiglas läßt Pop-Metall-Display stehen, um Kosmetik anzuzeigen
| | |
| --- | --- |
| Dimensions | W1200xD450xH2000mm |
| Color | Black |
| Surface Treatment | Powder Coated |
| MOQ | 50 sets |
| Logo | Sticker or Silkscreen available |
| Material | Metal |
| Color and Specification | can be Customized |
| Product Capacity | 10,000PCS/Month |
| Original Place | Foshan, China |
| OEM and ODM | Welcome |
Eigenschaften von Plexiglas legt Pop-Metall-Display-Ständer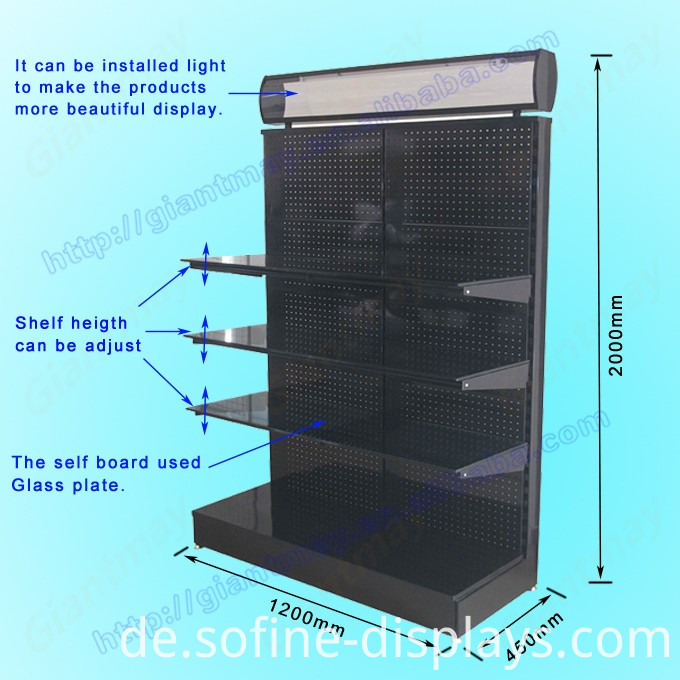 Firmeninformation
1, mit mehr als 100 Arbeiter und mehr als 10.500 Quadratmeter Pflanze.
2, Ein Profi bei der Herstellung von Metall-Display stehen über 15 Jahre.
3, spezialisiert auf Metall-Display-Rack, Shopping-Auto und Korb, Haken Zubehör, und so weiter.
4, Hauptmarkt: Deutschland, Länderstaaten, Australien, Brasilien, Kanada, Russland, Saudi Arabien, T urkey, Kasachstan usw.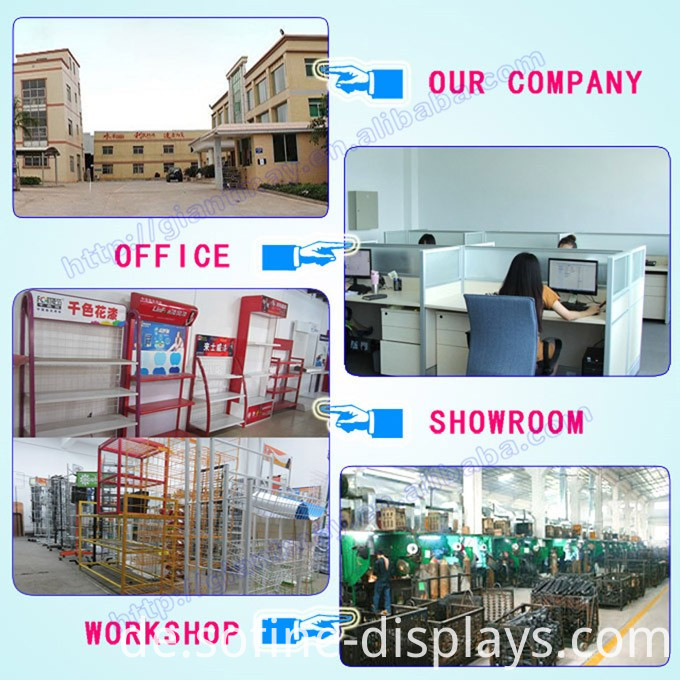 Unsere Dienstleistungen
 Why you should choose us?
1,Our product easy to assemble and assemble intruction sheet provided.
2,Fashionable atmosphere and innovative designs to fit your store
3,The display racks can be flat packing to save your shipping cost
4,You can also use our products to shows not just for the promotion
5,You can silkscreen printing your own LOGO on the display racks
6,

Provide OEM & ODM service



7,Our display rack nontoxic and environmentally friendly
8,We always on-time delivery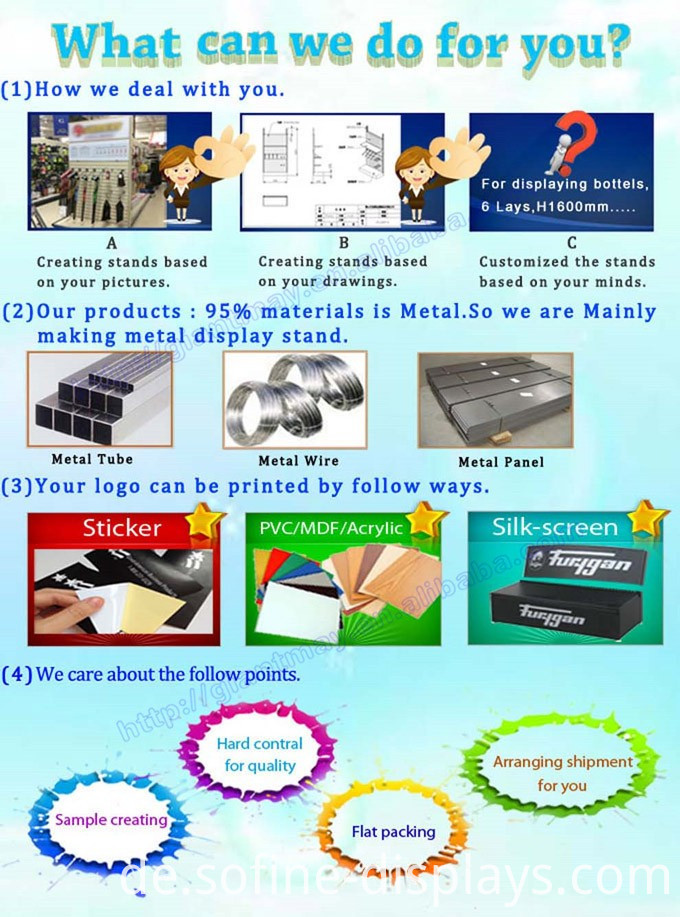 Fertigungsverfahren Fabrikausrüstung: mit 3 Drehmaschinen, 3 Fräsmaschinen, 5 Schneidemaschinen, 11 Stanzmaschinen, 12 Schweißmaschinen, 5 Stahldraht-Verlängerungsmaschinen, 5 Falzmaschinen und einer Pulverbeschichtungslinie so weiter;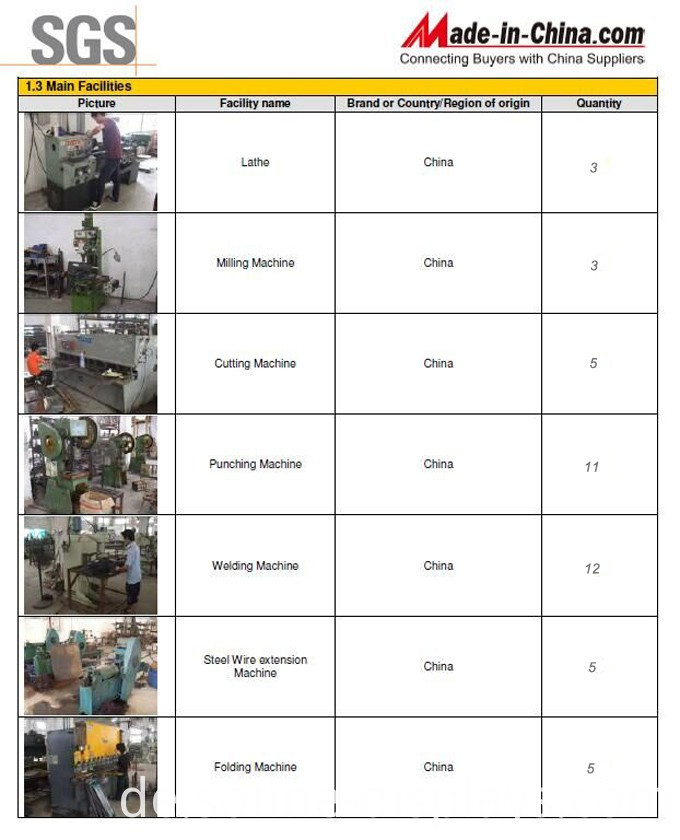 Verpacken u. Verschiffen 1.One Maßeinheit pro ein Karton
2.Die Klappe für die verpackte Verpackung
Datum 3.Delivery: 20-30 Tage
4.Loading Port: Foshan oder Shenzhen.
5,5 Schichten A = A innen mit Blase umwickeln und Blase Schaum zu schützen Produkt gut Versand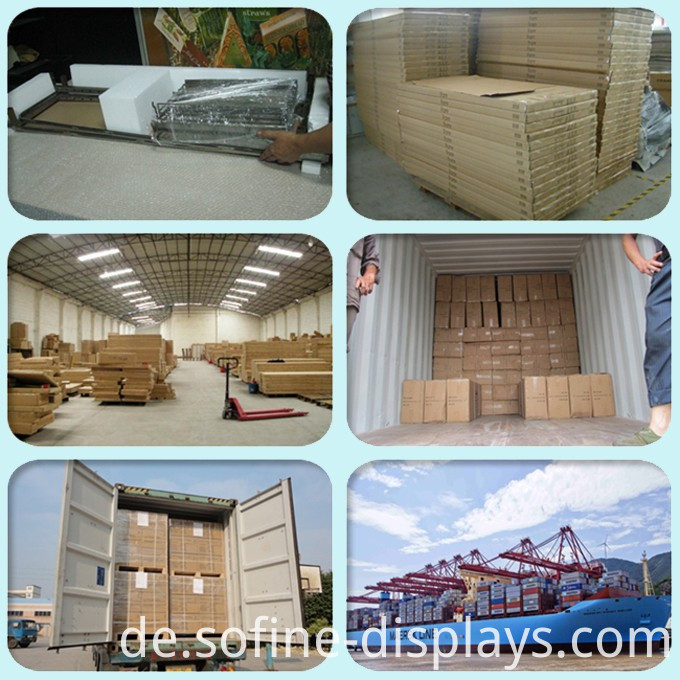 FAQ
F: Können Sie die Größe für den Stand ändern?
ja, bitte kontaktieren Sie uns, um uns Ihre Größe zu erklären. Wir werden eine Zeichnung für Sie ausstellen, um zu bestätigen.
F: Kannst du andere Farben für den Stand machen?
Ja, bitte kontaktieren Sie uns und lassen Sie uns wissen, welche Farbe Sie mögen, wir werden überprüfen, wenn wenn möglich.
Q: Ist die Probegebühr kann zurückerstattet werden?
A: Ja, es kann die Extragebühr für Sie zurückerstatten werden, sobald Sie die Massenproduktion platzieren. Zum Beispiel ist der Einheitspreis usd50, wenn wir Sie usd200 aufladen, dann werden wir usd150 für Sie zurückerstatten.
Q: Jede freie Zeichnung kann zur Verfügung gestellt werden?
A: Ja, wenn das Prdouct von Ihnen besonders angefertigt wurde. Wir werden Ihnen eine wichtige Zeichnung schicken, damit Sie das Design bestätigen können.
F: Wie kann ich das Geld bezahlen?
A: Wir können PayPal oder TT oder Western Union akzeptieren. Bitte sagen Sie uns die Zahlung, die Sie bevorzugen, wir senden Ihnen das Bankdetail zu.
F: Was ist die Versandmethode?
A: Es ist Ozean-Verschiffen für die Massenproduktion, wir Ratschlagversand sind Airlift und Express (EMS, UPS, DHL, TNT und FEDEX). Es wird ein niedrigerer Preis sein, wenn wir die Sendung an unseren Seiten arrangieren.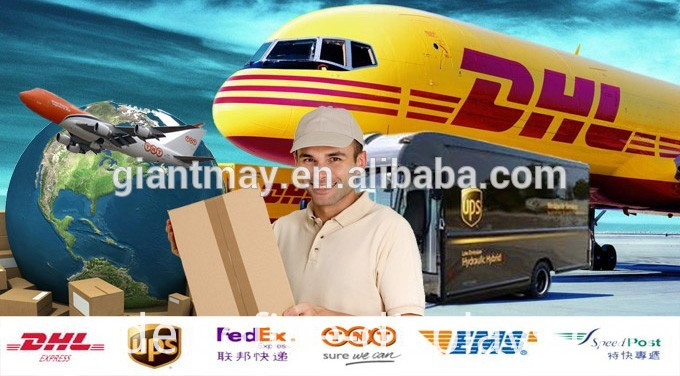 Begrüßen Sie Ihre Anfrage, indem Sie unten auf den gesendeten Bottun klicken oder
Sie können uns unter folgenden Weisen kontaktieren.
Produktgruppe : Hauptsächlich Produkte