Concise Wood Base Metall Wire Rod Wire Cap Korb Rotierende Kunst Bodenbelag Dreieck Eyewear Display Stand
Verpakung:

1. Knockdown oder Demontagepaket 2. Innenplastikbeutel oder Blasenbeutel, Schaum- oder Wabenpappe 3. Qualitätskarton auf MDF- oder Plastikpalette

Marke:

HICON

Ort Von Zukunft:

Guangdong China (Festland)
Basisinformation
Modell: hicon eyewear sunglasses display (159)
Produktbeschreibung
Concise Wood Base Metall Wire Rod Wire Cap Korb Rotierende Kunst Bodenbelag Dreieck Eyewear Display Stand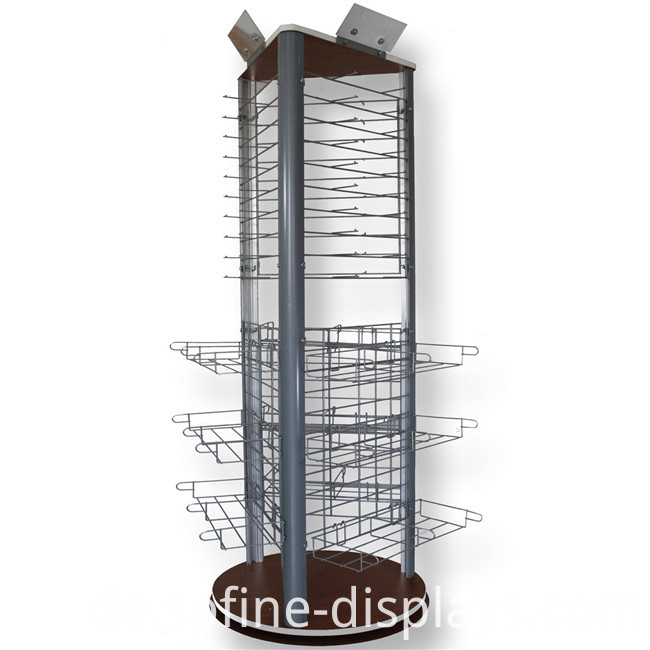 Warum Hicon?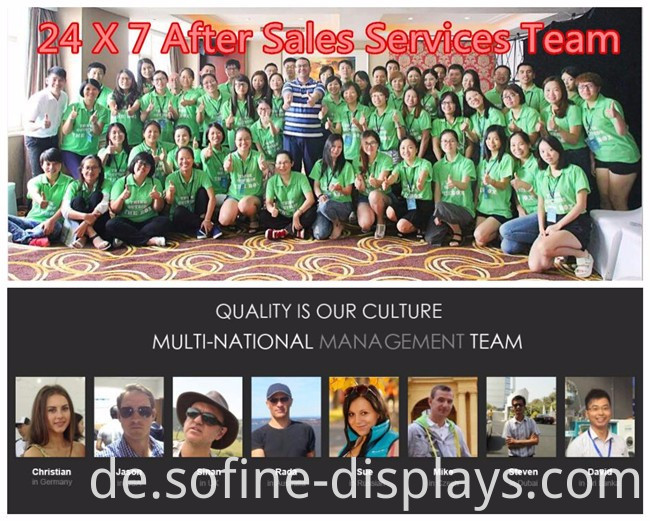 Unsere Kompetenz in Markenentwicklung und Einzelhandel zeigt Ihnen die besten kreativen Displays, die Ihre Marke mit den Verbrauchern verbinden werden.
UNSER WERTMELDUNG IST "QUALITÄT IST UNSERE KULTUR"
MIT UNS IHR GELD IM SICHEREN IHRE GESCHÄFT IN SICHEREM
1. Kundendienst 24 * 7
2. Beispielangebot & KLEINER Auftrag begrüßt
3. Qualitätssicherungsvertrag
4. Vertraulichkeitsvereinbarung "Business Secret CONTACT"
5. Ersatz bei schlechter Qualität
MEHR GRÜNDE
• Zuverlässig ----------- Haben über 10.000 verschiedene Displays und über 1000 Kunden
• Kundenspezifisches Design - Geben Sie kundenspezifisches Design an, das für jeden Kunden besonders angefertigt wird.
• Erfahrene ------ Mehr als 10 Jahre Design und Fertigung Erfahrung
• Kommunikation --- Unser mehrsprachiges internationales Team hilft Ihnen zu kommunizieren.
• Montage --------- Einfache Montage und Montage; Geben Sie Anleitung, um Sie zu führen.
Produktbeschreibung
| | |
| --- | --- |
| Item name  |  Concise Wood Base Metal Wire Rod Wire Cap Basket Rotating Art Flooring Triangle Eyewear Display Stand |
| Function: |  Display or present your products for sale |
| Application:  |  In retail stores, retail shops, showroom, markets etc.  |
| Size:   |  Custom size |
| Unit Price:  |  Depends on the design, size, qty and your expectation |
| Logo:  |  Customized logo  |
| MOQ:  |  100pcs or small trial order |
| Materials:  |  Metal, acrylic or wood or PVC or other material |
| Surface finishing:  |  Powder coating, polishing or painting/melamine/laminate/veneer ect |
Mehr Informationen über die Concise Holzbasis Metall Wire Rod Wire Cap Korb Rotierende Kunst Bodenbelag Dreieck Eyewear Display Stand:
Sample cost:

 Around 3 times of the unit price, sample cost can be refunded 

after mass production reaches MOQ

Sample lead-time:

 Around 1 week  

Production time:

 Around 1 month

Delivery terms:

 FOB, CIF, EXW

Packaging:

 Each set will be packed into 1 carton.

Payment ways:

 TT wire, PayPal, West Union

Payment Terms:

 50% deposit in advance 50% balance when goods are finished
Fälle u. Rückgespräch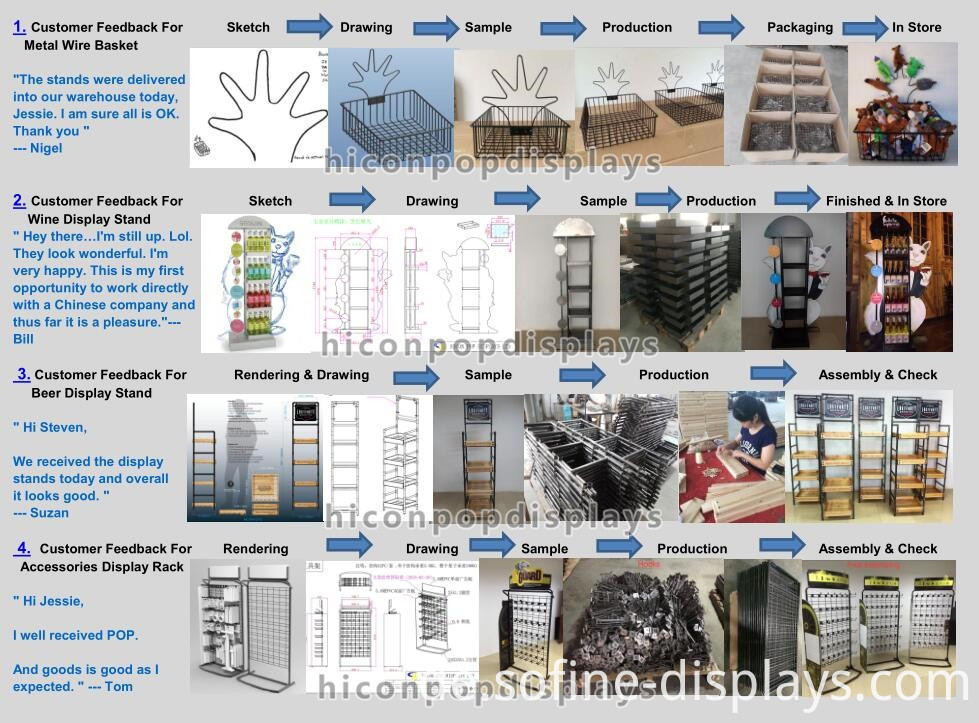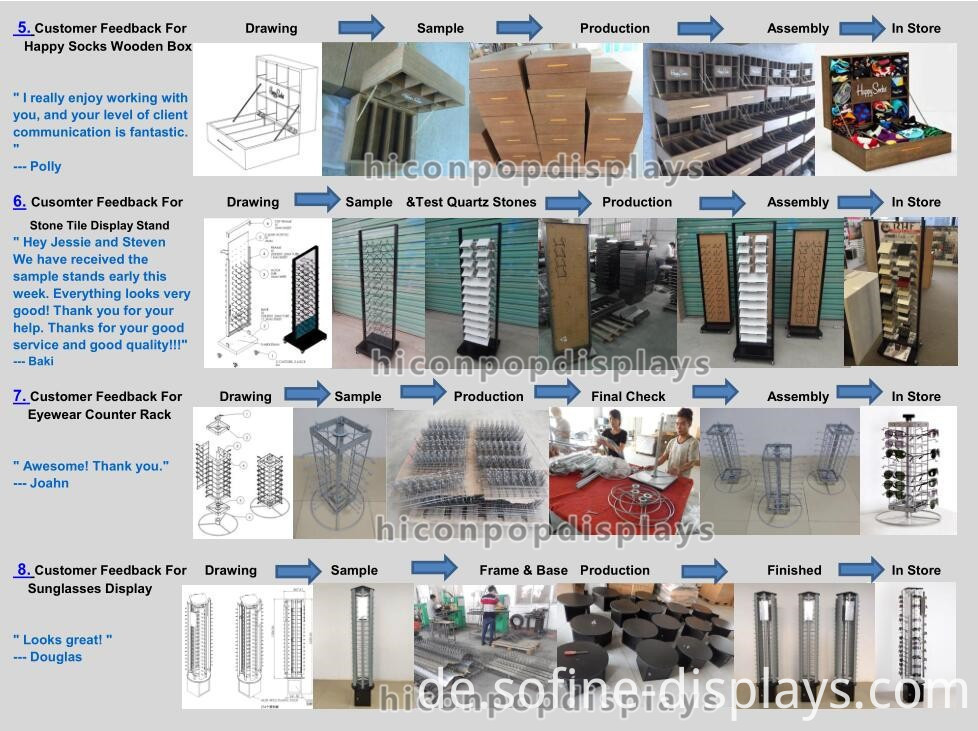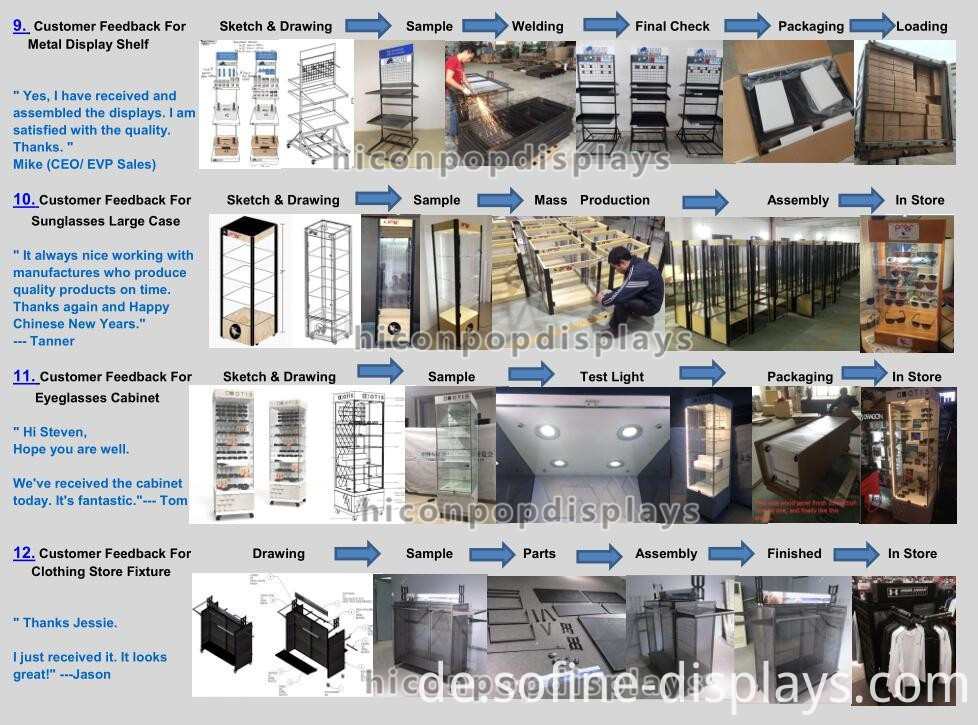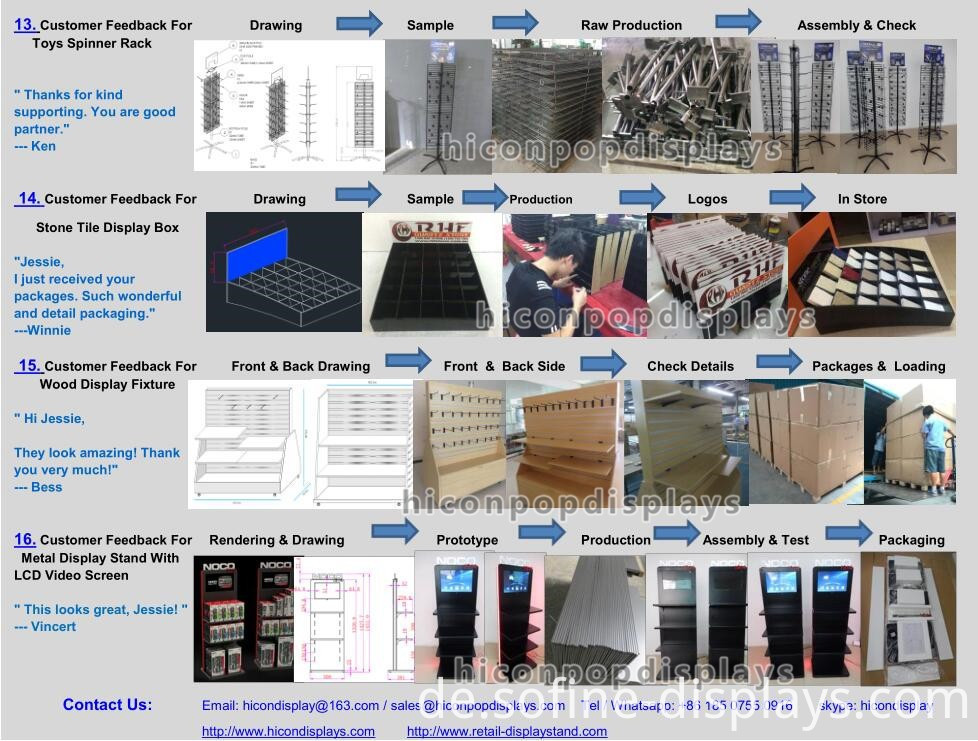 Weitere Produkte
Andere Display-Geräte Kategorie
| | | | |
| --- | --- | --- | --- |
| By Function | By What to display | By Style | By Materials |
| Sunglasses Displays | Clothing Displays | Counter Top | Metal Displays |
| Stone Sample Stands | Electronics Displays | Floor Free Standing | Wood Displays |
| Beauty Cosmetic Displays | Speaker Headphone Displays | Showcase Cabinet | Acrylic Displays |
| Cap Displays | Bag Displays | Wall Unit | Various Mixed Materials |
| Gifts Toys Displays | Wine Drinks Displays | Rotating Displays | LED Lighting Displays |
| Sports Items Displays | Food Displays | Shop in shop | LCD Screen Displays |
| Socks Displays | Pet Items Displays | Gondola Shelving | Glass Display Case |
| Watch Displays | Accessories Displays | Kiosk |   |
Wie man arbeitet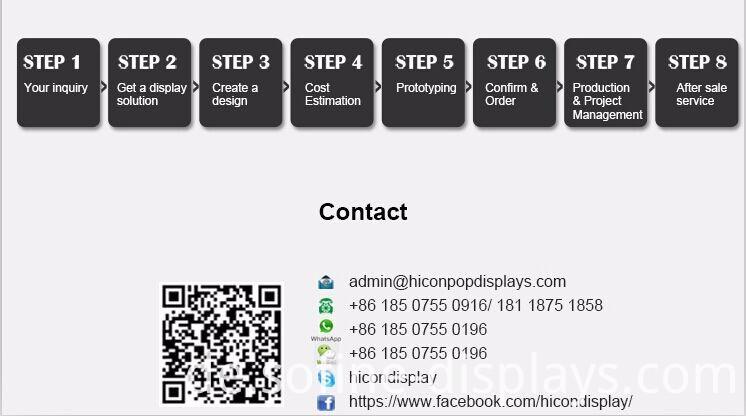 Garantie
A. 2 Jahre Garantie für den normalen Gebrauchszustand außer Elektronik wie LED-Leuchten, LCD-Bildschirme, die von Elektroniklieferanten gerechtfertigt sind.
B. Ersetzen Sie defekte Teile oder Zubehörteile, wenn sie defekt sind
C. Füge die Teile, Zubehörteile oder Werkzeuge auf
Hicon Fabrik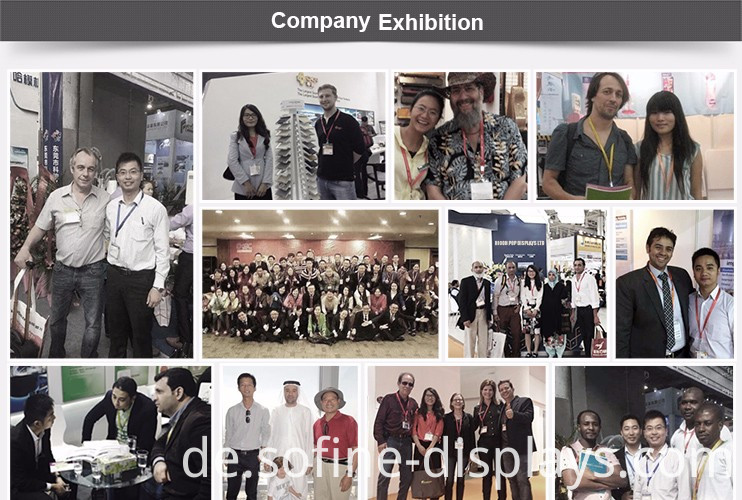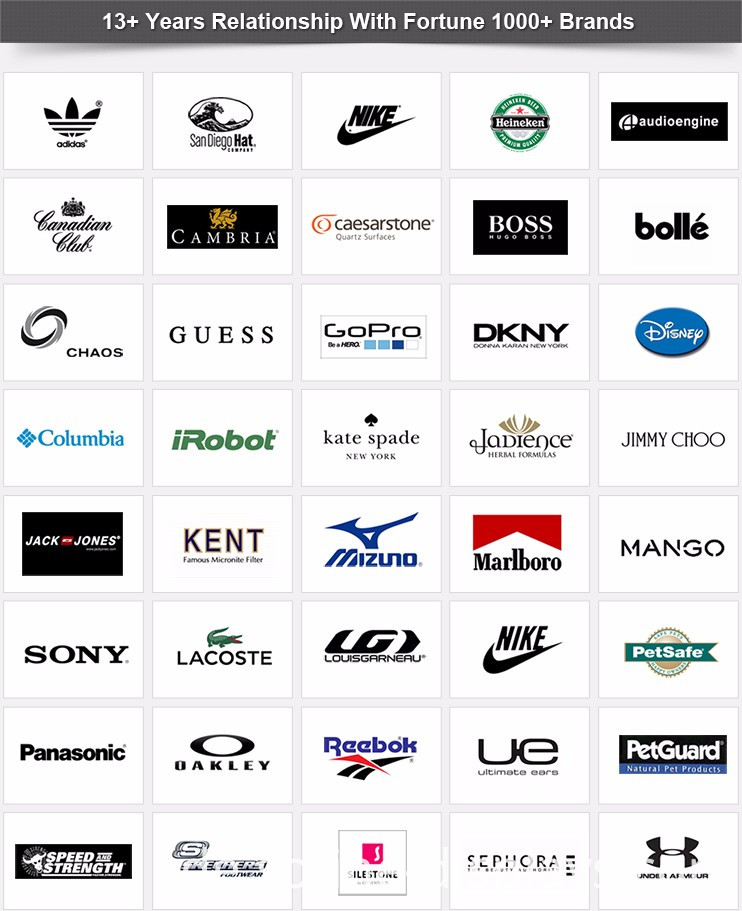 FAQ
1. Akzeptieren Sie OEM- oder ODM-Projekte?
Ja, beide sind willkommen
2. Können Sie dem Kunden helfen, ihre einzigartigen Ideenanzeigen zu entwerfen?
Ja, wir können Ihnen helfen, neue und einzigartige Display-Designs für Sie zu erstellen.
3. Akzeptieren Sie Musterbestellung oder kleine Probebestellung?
Ja, wir akzeptieren.
4. Können wir unser Logo oder Firmennamen auf dem Produkt drucken?
Ja das ist in Ordnung.
5. Kann ich meinen eigenen Ausstellungsstand anpassen?
Ja. Bitte senden Sie uns Ihre Bilder, Zeichnungen oder Muster, oder erzählen Sie uns einfach Ihre Ideen, dann werden unsere Designer und Ingenieure das Display für Sie individuell gestalten.
6. Können Sie die Größe für den Ausstellungsstand ändern?
Ja, wir können die Größe entsprechend Ihrer Notwendigkeit ändern.
7. Können Sie andere Farben für den Ausstellungsstand machen?
Ja, sagen Sie uns, welche Farbe Sie bevorzugen.
8. Jede Zeichnung kann vorgesehen werden?
A: Ja, wir schicken Ihnen die technische Zeichnung oder 3D Rendering Zeichnung zur Genehmigung, nachdem Sie sich für die Zusammenarbeit mit uns entscheiden.
9. Können Sie mit uns vertrauliche Vereinbarung unterzeichnen?
Ja, natürlich ist es unsere Verantwortung, die Informationen des Kunden vertraulich zu behandeln.
10. Was sind die wichtigsten Materialien, die Sie gut sind?
Eisen, 201 Edelstahl, Edelstahl 304, Massivholz, MDF, Acryl, Glas, Laminat, Melamin, PVC, PETG, PP etc.
11. Kann ich eine Probe vor der Massenproduktion bekommen?
Ja, Sie können Proben benötigen, um die Qualität zu überprüfen, nachdem Sie den Preis und die Details bestätigt haben.
12. Wenn wir das Kunstwerk kreieren, welches Formiat steht für den Druck zur Verfügung?
PDF, CDR, AI, PSD, etc.
Auflösung: nicht weniger als 1500 dpi, und je höher, desto besser.
13. Ich kann nicht das genau angezeigte Produkt finden, das ich suche, können Sie helfen?
Ja, sicher, wir haben gerade einige Display-Produkt-Designs auf Alibaba, nicht alle. Weil wir mit einigen Kunden vertrauliche Vereinbarung unterzeichnet haben. Sie können uns online bestellen oder uns eine E-Mail schicken. Unser Team findet große Display-Lösungen für Ihre Bedürfnisse oder erstellen Sie benutzerdefinierte Design für Sie.
14. Welche Art von Oberfläche beenden Sie Ihre Display-Stände könnte sein?
Pulverlackierung, Chrom, Malerei, Melamin, Verblendung und so weiter.
15. Sollten wir für die Probe bezahlen? Und was, wenn wir einen Auftrag vergeben?
Beispielgebühr wird benötigt.
Jedoch wird die Probegebühr zurückerstattet, nachdem Sie Auftrag nicht kleiner als unser MOQ platzieren.
16. Können Sie mit uns Vertrag unterzeichnen?
Ja sicher.
Produktgruppe : Eyewear Sonnenbrillen Displays